Couples Massage – spend quality time with each other and enjoy relaxation in Bangkok
There are so many benefits in a couples massage service in Bangkok such as creating better intimacy between your partner and you, discovering more about each other's passionate part, spicing up your common regular sex and feeling much closer to each other during a very sensual massage session. When a right connection is established between a male and a female, a method does not play role so much, it is care, passion and reverence that will play the principal role here and let the experience mutually delightful and memorable. If it is the first time that you want to try erotic couple massage in Bangkok, then it will be a good chance for you to explore how to give and receive sensual satisfaction. It could become adventurous and unique journey for you and your partner in Bangkok. International Models Massage will be your perfect guide on the way to better intimacy and open carnality.
Bangkok couples massage is perfect for reviving the routine sexual life between committed partners as well as adventures sensual enjoyment for new lovers.
If you are an unprejudiced couple and want to include some adventure to your intimate life and explore more of erogenous areas of your partner and yourself, certainly our Bangkok erotic massage for couples is something you should try. Every erotic massage provides the ultimate in relaxation and pleasures but a Bangkok couple massage present you a shared experience with the person you care about. In Bangkok massage for couples you and your partner will romantically get involved and each will enjoy the same therapeutic and sensual massage session.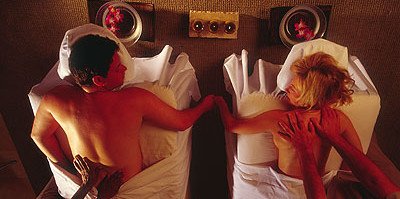 Find out the whole new level of sensual pleasure with the art of erotic massage that generates an extensive passionate linkage between a male and a female. Feel the depth of sensual amusement together with your partner, take pleasure of looking at your partner's arousal during your own pleasing time, spoil your bodies and enkindle your passion! Experiencing a full body to body massage together is an exceptionally sensual journey, as it is extremely erotic to watch one's partner being stroked and massaged with our massage therapists whereas you are receiving the same sensual massage yourself. This kind of intimate experience is ultimately pleasant that will take your sensual relation to a new stimulant level.
According your personal proclivity Bangkok couples massage may be done with or without Yoni and Lingam massage or happy ending.
So if you are interested in finding a way to arouse the sensual relation with your partner, diminish your tension levels and help your health, the advantages of couples massage service  in Bangkok is remarkable.